A Look Inside Castlight's Biggest Employee Hackathon, Code to One
At Castlight, we're united around one mission: making it as easy as humanly possible to navigate healthcare and live happier, healthier, and more productive lives. That's a daunting goal. Our healthcare system is incredibly complex, and while new health benefits and tools are entering the market all the time, helping employees make sense of it all requires personalized guidance.
To achieve this, innovation is the core to all that we do at Castlight, and we surface the best ideas from our talented workforce and get to implement them. These ideas improve, innovate and transform Castlight's user experience, while also providing our entire workforce with exciting and effective team building time.
For this reason, each year we host several Castlight hackathons — a fun challenge to Castlight employees to pursue ideas that they may not otherwise have a chance to develop in their current roles. Castlight's most recent hackathon, which took place in September was the largest event yet, with over 80 Castlight employees, across all departments and locations, participating.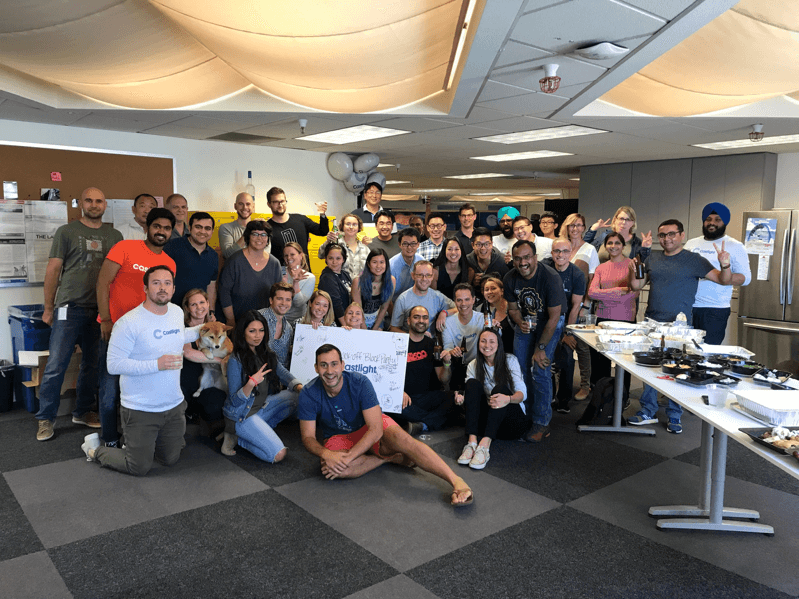 How does a Castlight Hackathon work?
Employees pitch ideas on a Friday morning, form teams around the ideas, and then work with those teams to develop them that day. Castlighter's get passionate about their projects, and have been known to work over the weekend to perfect their ideas, before they present to the team on the following Monday. Ideas have ranged from new product features, to more efficient ways to manage our workflow, to marketing projects, like research topics.
For Castlighters, the hackathon offers several benefits. First, it's an opportunity to develop an idea that may or may not be part of their regular job and to pitch it to leadership. No idea is too small for consideration. Projects also aren't just about code. This year, for example, one of the winning projects developed a template for in-office "block parties" to help Castlight employees get to know one another.
Second, it's an opportunity to work with people from different parts of the company on a single project. Teams often include engineers, product managers, designers, marketers, and members of our operations team. Teams also include members from our Mountain View offices combining their efforts with our San Francisco team.
Finally, employees who participate have a low-stress way to experience what it's like to launch a startup. Finding an engineer, for example, to help execute an idea is a little like finding a co-founder for a new company. At the end of the project, the team gets to present their results to judges, including Castlight's executive team, and convince them to pursue it. It mirrors at a small scale the experience of winning over investors to fund a company.
For Castlight, the benefit is clear. In addition to the team building aspects of the day, some of the company's best ideas have come from our hackathons. This year those ideas included using machine learning to offer better recommendations to our users and a better way to organize our user data that made a previously manual process, matching users to their data, automatic.
I've enjoyed seeing the hackathons grow from year to year at Castlight, and it is satisfying to see the new ideas we develop over a weekend implemented in our products and operations. We look forward to expanding our hackathons each year and continuing to bring our employees together at events that further Castlight's culture and mission. If you're interested in learning more about how to join our team, please visit.